Hero Volunteers
helping the homeless
Supporting
local communities
INTERNATIONAL VOLUNTEER DAY @ HUMANUTOPIA
Our opportunity to raise awareness of volunteering
Wednesday 5
th
December 2018 marks
International Volunteer Day
.  It is an opportunity for volunteers, and volunteer organisations, to raise awareness of volunteering.
The act of volunteering is found in all cultures, languages, and religions. Each year, hundreds of millions of people volunteer their time and skills to help make the world a better place. When they volunteer they help to improve the life of others.
On 5th December people around the world will be volunteering. We would like utilise our Team Heroes to raise awareness of the homeless on this day.
humanutopia have a growing force of Heroes around the country it is our intention to have all the Heroes who participate in 'Heroes Helping the Homeless' come together and take part and be a part of something very powerful.
We will be asking Heroes to arrange a collection of food for their local homeless shelter. humanutopia will support all schools in the organisation of this event.
We will give you the layout on how we would like the project to be organised so that its done in a systematic way and so that the distribution of the bags of kindness will be delivered on the exact same day up and down the UK.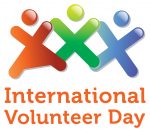 Growing confidence and responsibility
The Heroes will grow in Confidence individually in giving Hope to others and helping make the world a better place.
All Heroes who volunteer to participate each will have a role/responsibility to work individually and as part of a team, communicating, listening, organising and working to a deadline.  Heroes will all have to work on the Relationships they have with each other, offering support where needed to ensure all deadlines are adhered to.  The experience's gained will be invaluable and will add to their very own practical skills and employability.
To volunteer and give something to the homeless in the community at a time when Christmas is on the horizon and the weather starts to turn cold without judging why people are homeless, just spreading a little Happiness and giving unconditionally will be a rewarding and humbling experience.
Organisation, Planning & Commitment
Heroes
to nominate a team leader to oversee all areas/roles/responsibilities.
Heroes to liaise and organise transportation for the day through the school for the bags of kindness to be distributed.  Depending on size on mini-bus allocate individual Heroes to go along on the day to meet the homeless and hand over bags.
Heroes to contact the local newspaper/radio stations to inform the local community and promote the school on its investment in the Heroes on their journey in helping others in the community.
Heroes to contact and source the local homeless hub to request permission to visit on the 5th December to distribute the collected items and to request permission to take photographs on the day.
Heroes to take photographs on the day.
Heroes to locate a specific collection point and time not interfering with the school day to collect donations.
Depending on how many Heroes wish to take part depends on how many Heroes we can put into each role.
humanutopia will provide the bags to be used to pack items in.
SUGGESTED FOOD TO COLLECT
Suggested items for a collection
Tinned food; meat; vegetables; fruit; pudding; beans; pulses; soups
Pasta & Pasta sauces
Rice
Jams, spreads, preserves
Butter
Crackers
Cereal
Biscuits
Mince Pies
Christmas Cakes
Katie Taylor
Katie will be available to liaise with the designated lead teacher/team leader to ensure everything is on track.
Katie will provide a standard letter for all parents explaining the project and dates for collection.
For more information contact Katie katie@humanutopia.com
PIONEERING UK EDUCATIONAL AGENDAS