Highly qualified staff
to maximize impact
We are creating a world-class team at a company created for young people and run by young people. 13 out of our current 20 strong team are young people who have come through our programmes whilst they were at school, so the spine of our company is made up of past students, facing the same challenges that you face your students today. All our young team have a unique insight into what we are all about and what we want to achieve with each and every client school and our 2 year apprenticeship framework helps them really get to grips with the skills and qualities they need to succeed and flourish in this highly motivated team. This depth and commitment to our teams helped us become Youth Employment UK's Small Business of the Year in 2015.
Programme/Staff Director
A co-creator and all round Hero, Graham has been at HU from inception, leading it…
Partnership Director
A co-creator of humanutopia with Graham and all round Hero, Carlo has become an inspiration and…
Sales
Ryan is part of our sales team, helping us connecting with school leaders and partners…
Operations Manager
The glue holding the office together, Elaine has been an essential part of the team…
Head of Creative Media
Tom is a creative genius. His understanding of storytelling and media has empowered humanutopia from the…
School Partnership Manager
Katie is our School Partnership Manager at humanutopia, helping other schools and other heroes sustain…
Facilitator
Steve is one of our best facilitators. He helps getting humanutopia in front of new…
Lead Facilitator
Lauren Mc started at the bottom, joining HU at a very young age and has…
Apprentince Facilitator
Tamara inspires young people as an Apprentice Facilitator using her ultra positive attitude and outstanding…
Apprentice Facilitator
Robina is part of our Apprentice Facilitator's team. Her strong personality and endless energy is…
Apprentice Facilitator
Sacha works tiredlessly t0 improive the lifes of all the young people we work with. His…
Apprentice Facilitator
Stevie joined HU having taken part in our 'Who are you?' day in 2010 as…
Our facilitation team are challenged to be the very best they can be and we give them 10 goals to aspire to. They have strong Team Leaders who 'walk the walk' by demonstrating high-level communication and inter-personal skills.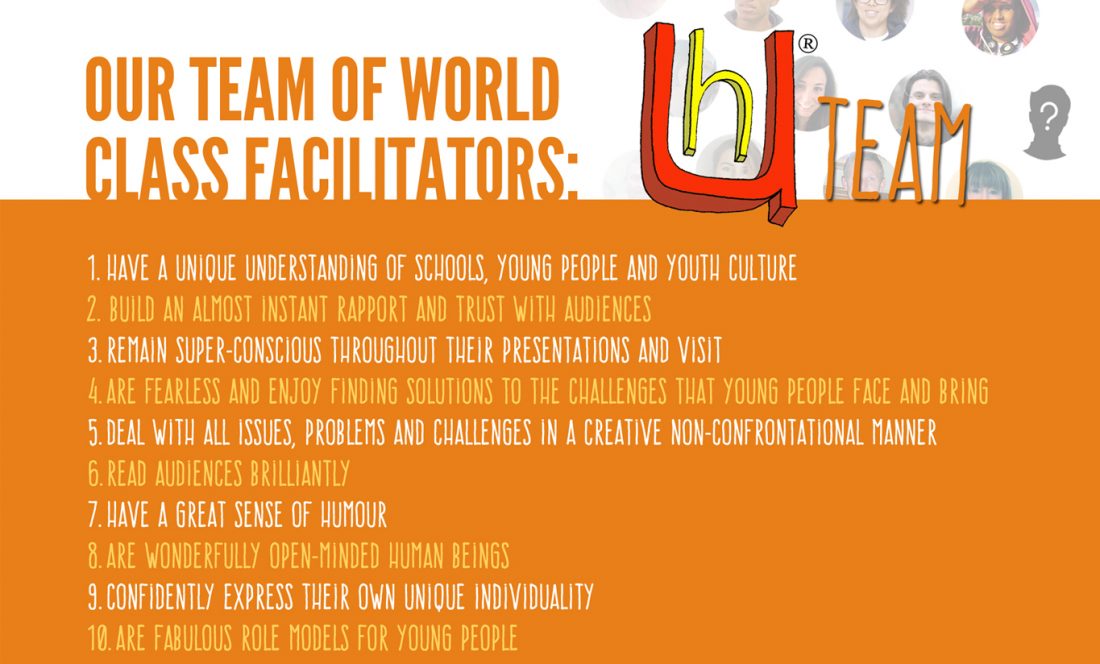 Our teams also have a unique training programme based around our 'Pyramid of Self-Actualisation', which helps them develop a strong foundation by comprehensively planning and preparing to do their job professionally. The Pyramid then helps them progress on to basic delivery skills essential for running our programmes. We know of course, that young people will bring us many challenges and issues so the 'Pyramid' shows our teams how to solve these problems in a highly creative and innovative way.
The final phase of the Pyramid empowers our facilitators to be the best possible role models for young people by allowing them to be the best version of themselves. In doing so students see how easy it is to accept and be themselves in a world that has taught them the opposite. Seeing a young trainer being emancipated and liberated from their past fears and behaviours is enough for many young people to go and do the same in their lives.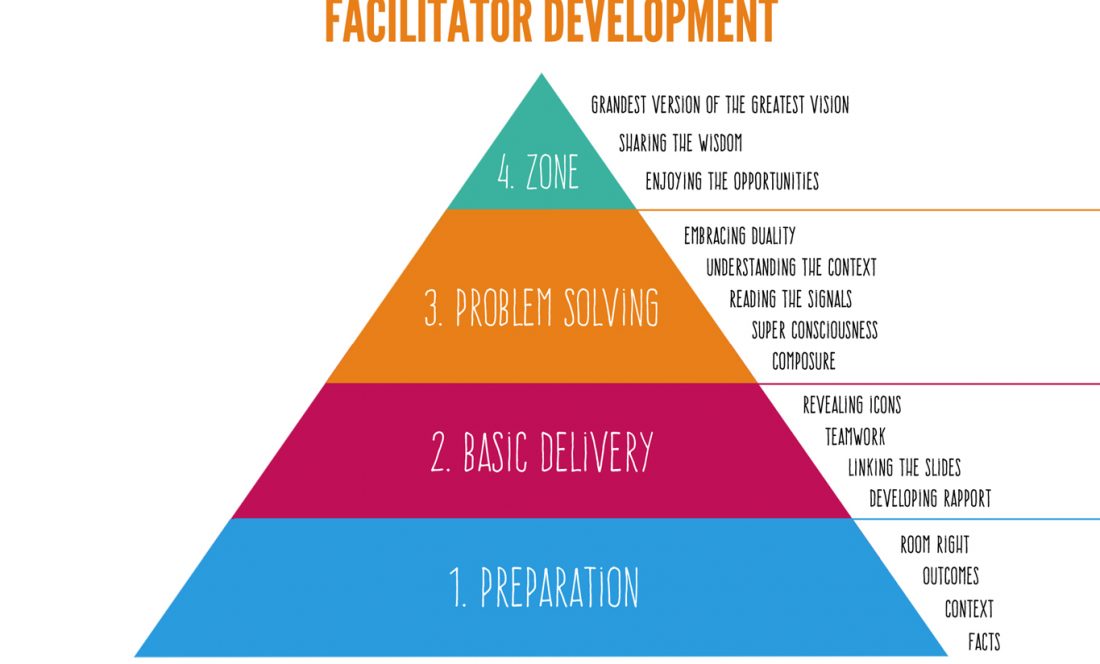 One final tool unique to humanutopia is the 'Spectrum of Consciousness' that we use to help train our teams to be as 'super-conscious' as possible at all times. Standing up and talking for 5 hours will inevitably lead to tiredness but by using the 'Spectrum' our teams are able to focus their consciousness on the young people. This is also how we avoid reacting negatively to any issues and problems the young people may cause and always helps us to find positive, win-win solutions.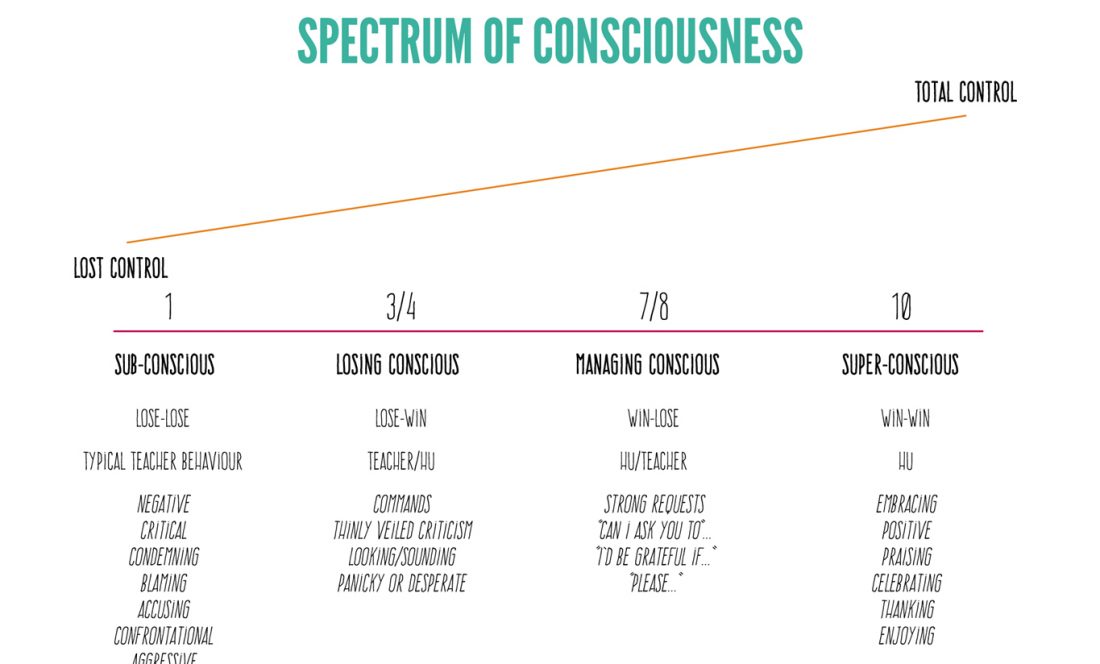 If you would like to contact any of our team individually, you can use our contact form or you can use any of social media channels.